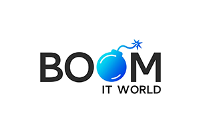 Boom IT World Ltd.
Have an Idea? Let's Build and Boom It.
We are a professional IT company based in Canada. Our team of experts and experienced professionals work to provide our clients with the best SEO, Digital Marketing, Graphic Designing, Website Design & Development, web applications, E-commerce Services, App Development Services, and UI/UX Design Services. Our services are extended globally; we wish to provide our services to potential clients. Our team works tirelessly to provide our clients with the best solution, which satisfies their requirements and suits their budget. We excel in providing customized solutions, based on clients' requirements; we suggest to them the best. With a reservoir of experience behind us and a high amount of expertise, we are constantly striving to create a difference with our services. We are revolutionizing businesses with our efforts, vision, and creativity. We are eagerly moving forward to become the top IT Agency. WE ARE AN IT AGENCY THAT HELPS BRANDS TRANSFORM AND SCALE BUSINESS SUCCESSFULLY THROUGH OUR SERVICES.
Service Focus
Services
Our Services:
We work tirelessly to meet our clients' expectations. With the greater part of the nation approaching the web, a Web presence is fundamental for all businesses and organizations. So, to help the businesses build an online presence, we are one of the top IT companies in Canada providing world-class services. We are experts in the following solutions. • Web Design & Development • UI/UX design • SEO Services • Web & Mobile Applications • E-commerce Services • Digital Marketing Services.
Key Clients:
Medical & Healthcare Industry • Medcare Clinics • Medcare Diagnostics • Medcare Aestetics • Medcare Health System Landing pages • Covid Teeka • Thorold Marketplace • Thorold square Realtor • Durgesh Patel Education • Otsu • Osler Education Food • Indie Kitchen