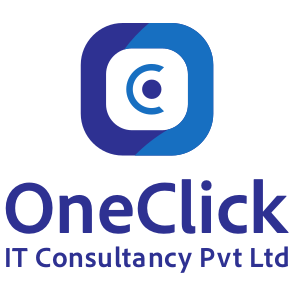 OneClick IT Consultancy
We Build a Brands from Ideas!
We are a Tech savvy company with 100+ developers who have successfully delivered 525+ Mobile Apps and Enterprise apps and 370+ websites for our clients and partners with different business verticals and domains across the world. At OneClick, we make it our aim to assist you in the challenges that new technological advances bring to your business. Our mission is to develop and implement innovative and tailor-made digital solutions to support our clients in achieving their goals. Driven by a strong entrepreneurial spirit and the desire to create a link between your business and the latest technologies, we associate our passion of software development with a culture of results. Over the years, we have developed a simple and scalable working approach and methodology allowing the achievement of objectives, and this, within the set deadlines. With nearly a decade's experience, we use best practices and development standards to deliver high-performance applications, focused on the user experience. Our mission goes far beyond providing you with the technological tools necessary for your digital transformation. We promise you the support you need to guarantee the success of this important transition across the board.
Service Focus
Videos
Services
Our Services:
Our core expertise is in Native application, Mobile Applications, Cross-platform application, Website development, Travel based application, Sensor-based Application, CMS, e-commerce application and enterprise application. We analyze our client's requirements in-depth and provide progressive and cost-effective approaches for the optimal solution through our consultancy services. OneClick's another strong vertical is digital marketing. We make sure you reach the right audience at the right time and through the right medium.
Key Clients:
Our customers and partners choose OneClick for many reasons, including the versatility of our technologies, our support for open standards, and the high degree of interoperability of our products. Whether you need a complete application, a modification to existing software, an audit or an on-site developer to fill a heavy workload, we put our resources at your service to find solutions to your issues.